Tandoori monk tail

2 people

30
Ingredients:
1 x 500g monk tail

 

1 tbsp coconut oil
½ tsp turmeric
½ tsp Kashmiri chilli powder
½ tsp ground cardamom

 

½ tsp chilli flakes
2-4 curry leaves
Pinch of smoked sea salt
To garnish
2 naan bread, grilled
2 tbsp mango chutney
Zest and juice of 1 lemon
½ Red onion, finely sliced
6 radish, finely sliced
Handful of shredded cabbage

 

1 tbsp cider vinegar
1 tsp sugar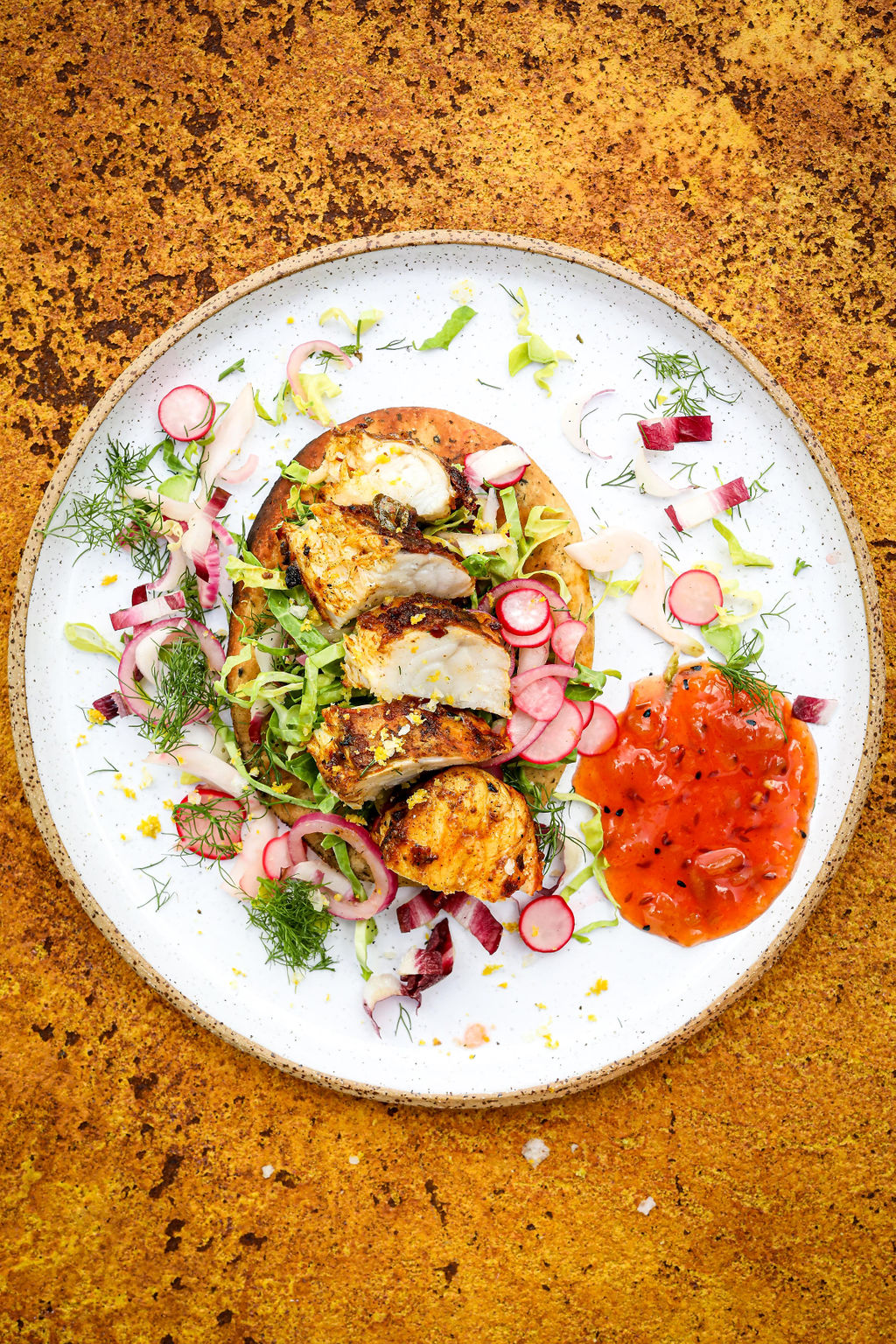 Method:
Marinade your monk fishtail in a blend of oil, spices and sea salt for 2-6 hours – if time allows leaving overnight to absorb extra flavour. Preheat your wood-fired oven to 350˚C or a BBQ to hot oven roasting temperatures. Cook your spiced monk tail on the bone in a cast-iron skillet to avoid sticking to the grill. Try using apple, oak or cherry for a sweet woodsmoke aroma when roasting.

 

Cook the tail for 8-10 mins turning halfway through cooking and brush with any remaining spices. Carve off the bone whilst still warm and chop the two cooked fillets into medallions.

 

For the garnish heat your sweet vinegar pickling liquor and toss with your sliced radish, cabbage and onions. This helps soften the veg slightly and adds a layer of acidity.

 

Flame grill your naan bread and serve the monk on a generous layer of quick-pickled veg with mango chutney on the side. Garnish with lemon zest and juice plus a pinch of freshly chopped dill.